Heading to SouthEast Dreamin' '19
Hello! In March the Southeast Dreamin' 19 event will be taking place in Atlanta Georgia March 21- 22, 2019. I will be presenting "A Quick Intro to Lightning Web Components".
Southeast Dreamin'
For more information about Southeast Dreamin' and to register you should visit their site. Bellow is a copy from the About Us page What is Southeast Dreamin'? section.
Southeast Dreamin' was created by Salesforce users for Salesforce users, to provide learning and networking opportunities as well as facilitate collaboration.
It is a one & a half day event that features a Keynote speaker, over 20 community-led breakout sessions and Hands on Training (HOT) sessions. You will also have access to a Sponsor Expo and live Demo Jam to learn about AppExchange options that can expand your use of Salesforce.
A Quick Intro to Lightning Web Components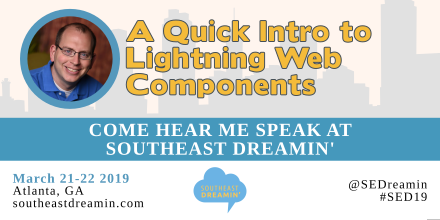 They made a neat banner image!
Lighting Web Components are the new, standards based way to create UI elements for Lighting. We will take a quick look at the tools needed to get started and the basics of creating a Lighting Web Component.
Hope to see you there!
That's it for now.
Remember to sign up for The Weekly Stand-Up!  and you can get updated with any new information we have on WIPDeveloper.com.